Make sure you use the correct site when booking your Driving test!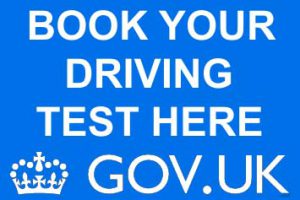 When booking your Driving test, please ensure you use the www.gov.uk site, as there are many sites which look correct but will charge you extra just for booking the test for you!
https://www.gov.uk/book-driving-test
Good luck!
Book your practical driving test for:
cars
motorcycles
lorries, buses and coaches
approved driving instructor (ADI) part 2 and 3 tests
This service is available from 6am to 11:40pm.
This page is also available in Welsh (Cymraeg).
Start nowon the driving test booking service
Before you start
You need your:
UK driving licence number
credit or debit card
driving instructor's personal reference number if you want to check they're available
Book a test to upgrade your licence
You must call the Driver and Vehicle Standards Agency (DVSA) if you need an 'upgrade' test, eg automatic to manual car, or medium-sized lorry to a large lorry.
When you don't need a theory test
You must usually have passed your theory test before booking.
You don't need a theory test to book a:
tractor test
test to upgrade from automatic to manual
test to progress through the motorcycle categories (progressive access)
car and trailer test
lorry and trailer test
bus and trailer test
large lorry test, when you've got a medium lorry licence
large bus test, when you've got a medium bus licence
Help with your booking
Contact DVSA to get help booking your test.